PhysX FluidMark

NVIDIA PhysX and OpenGL Benchmark with Multi-Core CPU Support
» Download
» What is PhysX FluidMark?
» ChangeLog
Download

FluidMark 1.5.4 - WinXP / Vista / Win7
Previous versions:
The forum for scores or bug report, is here:
GPU tools @ oZone3D.Net Forums
FluidMark Related News
What is FluidMark?

PhysX FluidMark is a physics benchmark based on NVIDIA PhysX engine. This benchmark performs a fluid simulation using SPH (Smoothed Particle Hydrodynamics) algorithm to increase the realism of the fluid. FluidMark supports GPU PhysX (NVIDIA GeForce 8+ only) as well as multi-core CPU PhysX.

This benchmark exploits OpenGL for graphics acceleration and requires an OpenGL 2.0 compliant graphics card: NVIDIA GeForce 5/6/7/8/9/GTX200 (and higher), AMD/ATI Radeon 9600+, 1k/2k/3k/4k (and higher) or a S3 Graphics Chrome 400 series.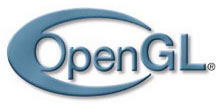 The startup interface allows you to tweak the benchmark features such as:
GPU or CPU PhysX
Multi-Core CPU PhysX support
Benchmark mode or stability test / interactive mode. Interactive mode makes it possible to move the camera (mouse) and to pause PhysX engine (with P key).
Fullscreen or windowed for each type of run mode
Window size selection (standard or custom)
MSAA samples selection
Benchmarking parameters: time based or frames based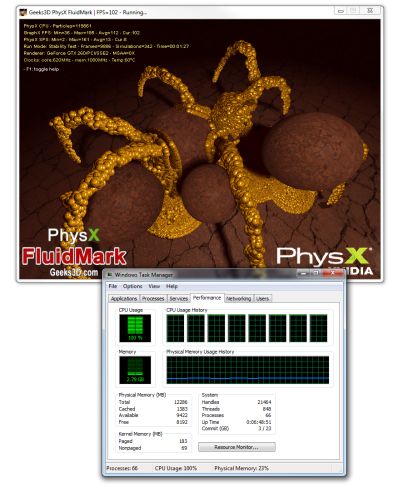 Multi-core CPU PhysX in action: a fully loaded 8-core CPU!